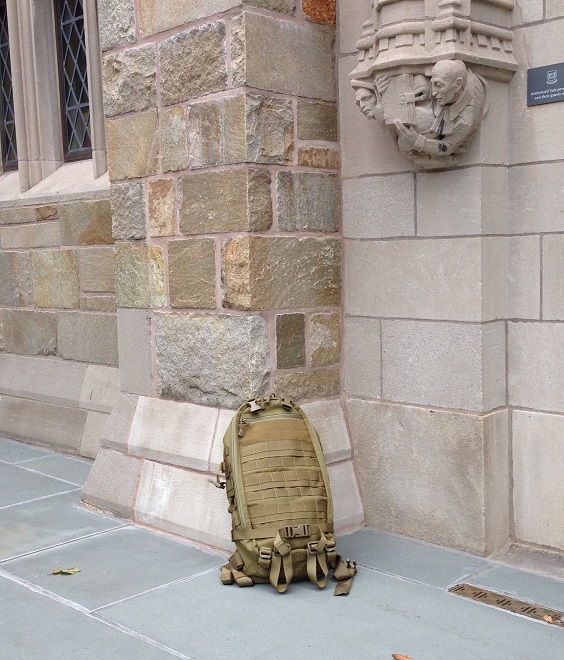 We love a good bag, and we are always on the lookout for a great backpack. Backpacks are versatile, practical, convenient, and leave your hands free to do other stuff. However, in the rarefied air of men's fashion discourse, "backpack" can be a fightin' word.
To be sure, OTC is a men's style and lifestyle resource that focuses on bring together classic style and modern life. And, while it is undeniably classic in form and function, the backpack debate can quickly lead to heated sartorial words. So, to head that imbroglio off at the proverbial pass, let's clarify a few points.
Backpacks are a fact of modern life, especially for those who commute by public transit on a daily basis. They are also a tool for those among us who need to regularly port more than a wallet and smart phone. They are perfectly designed for casual use; hiking, strolling, shopping, trekking, and dragging around your child's many supplies.
All that being said, don't wear a backpack with a suit. Just don't.
Indeed, there are many sharp, expensive, and finely crafted backpacks that nicely bridge the divide between practical and formal, but that's besides the point. As a category, they are inherently informal and wearing one with dress or business clothing with cause you to look like a little kid trying to be a grown-up, or a grown-up with little understanding of style and personal presentation.
A backpack will not only ruin the lines and look of a suit coat or blazer, it can ruin them literally as well.  Again, just don't do it. Messenger bags are a better option on a case-by-case basis, totes and briefcases are fine.
With those caveats out of the way, we present the FAST Pack Litespeed from Triple Aught design. To be sure, no one is going to confuse it with a business bag, which is just fine.  Regardless, this backpack can handle pretty much handle anything you toss its way and look darn cool doing it.
The Litespeed is an everyday backpack for those who like the idea of a one-stop-shop and that looks simultaneously tough and modern. While rugged, it actually has a very low profile and is easy to carry. It's obvious tactical design and special operator credentials encompass a sensible and well thought out collection of pockets and dividers that make sorting your stuff easy and convenient.
Since it is military-inspired, the Litespeed can be configured and added to so that you can create a truly customized carry design that works best for you. We have tested this bag in a variety of environments, including day hikes, road trips, city excursions, and even Disney World. In each scenario, it met or exceeded our needs.
In terms of construction, the Litespeed is made of MIL-SPEC 1000 Denier Invista Cordura fabric and tough webbing that's nearly impossible to rip or tear. Hypalon, the same material found on Zodiac boats, is used to reinforce stress points, including the handle and shoulder strap connections.
The pack is also laced with Pouch Attachment Ladder System (PALS) webbing and it's also compatible with Modular Lightweight Load-Carrying Equipment (MOLLE) pouches so that you can customize the layout of your gear to suit your changing needs.
The upshot is that this is one handy, cool, functional, and durable backpack for both everyday use and urban or (let's be honest here) suburban, adventures.
One last but exciting note; Triple Aught just redesigned the Litespeed in several important areas to make it even better. So, take a look and check it out for yourself.