If there is any one "look" or style that best defines East Coast Ivy League, or OTC for that matter, it is that of the iconic college professor. When most people think of college professors (or indeed prep school teachers), the classic look comes to mind: tweed and corduroy, grey flannel, well-worn leather shoes, a beat-up satchel, and some wire framed glasses.
For many, that is what a college professor should look like. The reality is often at odds with the ideal; some look exactly as you might expect and some are in desperate need of sartorial help. Yet, the image of Dr. Jones in his classroom or Mr. Keating, imploring his charges to "seize the day," persists.
So, what exactly is the "college professor" look and why is it so interesting? This classic Ivy League style can also be described as a sort of 1930s prep school teacher look. It combines two unique elements: a timeless, idealized version of the privileged life and the intellectualness of an exclusive liberal arts education.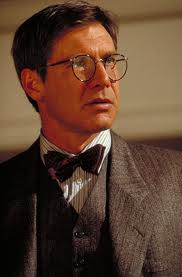 Though it may sound a little dramatic, this is a very emotional and evocative style of dress. Think of the outfits worn in such films as Dead Poets Society or A Beautiful Mind, or in any Harry Potter movie. The clothes themselves provide an emotional touchstone that quickly defines where you are and who you are. It is a sort of intellectual uniform, a symbol of belonging that is both timeless and very appealing.
Ralph Lauren in particular has captured the college professor look; in deed it is virtually synonymous with the brand. The now-defunct Rugby sub-brand moved from the lectern to the desk with richly detailed, prep school inspired clothing and accessories. The Rugby stores, often located close to college and university campuses, had the design and feel of an old and moneyed prep school common room.
More recently, J. Crew has masterfully redefined the college professor look to reflect a modernized riff on a late 1950s era Ivy League campus. More streamlined and less fusty, the J. Crew take on Ivy League is modern and active, yet still grounded in the classics, as it were.
A key element to achieving this wonderful look on your own is to not overdo it. And Fall is prime season for employing all the, classic elements.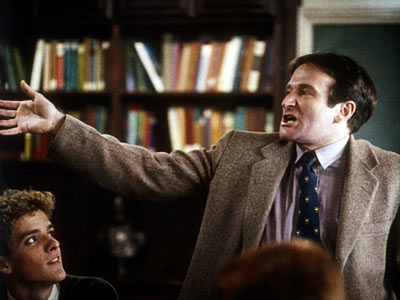 The college professor style is at its best when you appear to have not thought a great deal about what you threw on this morning. Tweed or corduroy coats, chunky sweaters layered over old button down shirts and school ties, gray flannels, corduroy pants, or heavy khakis. They are simple and classic components that, when combined, create an instantly recognizable picture.
The goal should be to reference key elements of the classic look but not mimic or replicate them as costume. You are not a character in play; you are someone with a real life, commute, and job. Still, this look is really about dressing emotionally and layering on a philosophy of life.
Moreover, the inherent eccentricities of this style make it fun and flexible. If you already invest in timeless core pieces, it's that much better. Instead of a sweater, why not opt for a simple heather grey crew neck sweatshirt from American Giant over that OCBD, khakis, and old boat shoes?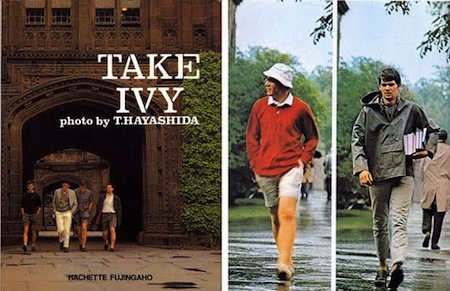 This quest for an authentic and honest expression of Ivy League style, in many ways the core of the college professor look, resulted in a 2010 English reprinting of the iconic 1965 Japanese book, Take Ivy. The virtual bible of American East Coast style, The Official Preppy Handbook, is a perennial reference, while subsequent publications including Ivy Style: Radical Conformists, Preppy: Cultivating Ivy Style, The Ivy League, and Rowing Blazers offer additional guidance.
Selecting honestly crafted and long lasting accessories is also important. Instead of a generic nylon backpack or computer bag, invest in a leather folio or classic briefcase. Frank Clegg makes some of the best; expensive, yes, but something that will last a lifetime. Classic pens and watches mix well, as does traditional footwear. Suede shoes, heavy brogues, and dressy boots are good choices.
For cooler days like the ones ahead, choose a big scarf in a nice tartan or your school colors. If you don't have school colors or don't like the ones you do have, just adopt someone else's.
When done right, the overall effect should be of a natty intellectual. It should also look natural and relaxed with a touch of world-weary travel. This look works best on those who already possess a genuine love of this most classic of periods for menswear and are indeed curious about the world and of always learning more.
Perhaps more than any other style, the college professor look persists decade after decade because it is not really about fashion; it's about a philosophy of life. It's an outward expression of your curiosity and appreciation of what the world has to offer; a physical expression of cherishing the past and looking toward the future while never losing touch with your own sense of personal taste.
Below, we offer some inspirational imagery to set you on the sartorial path of creating your own version of the classic, timeless, rumpled, worldly, or modern college professor. Take your pick and make it yours.