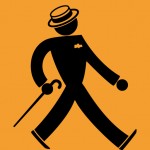 Learning how to dress well is much easier than you probably realize. The real challenge lies in being able to acquire the right information, personalized for you and you alone. And that's exactly what BeSpeak app does.
Off the Cuff is the social media arm of BeSpeak, a revolutionary menswear iPhone application.  OTC is proud to part of an outstanding and dedicated team, headed by Alan Flusser, one of the most well known and knowledgeable authorities on menswear.
Alan Flusser has sold more books on men's fashion and style than anyone else. BeSpeak, provides individual dressing advice directly from the expert.
Create a personal profile based on hair color, skin tone, eye color, face shape, body shape and size
Get profile-driven outfit recommendations
Instantly evaluate new outfits on the go
Coordinate clothes from your wardrobe
Input a loved one's profile and take the guesswork out of gift giving
Build the ultimate closet by storing profile-perfect clothes
Develop the skills that let you dress like an expert

BeSpeak provides guidance for men's business formal outfits (suit, dress shirt, tie, and pocket square). Dressing well is easier than you probably think. The difference between looking presentable and looking incredible lies in having a style personalized for you and you alone. And that's exactly what the BeSpeak app does – it provides personal recommendations and fashion evaluations based on your unique physical characteristics. It's like having the ultimate personal stylist at your fingertips.
———————————————————————————————————————————————————————–
BeSpeak Links
Get BeSpeak at iTunes
Go to BeSpeak.com
Join BeSpeak on Facebook
Visit Alan Flusser Custom
Get the book Style and the Man
Reviews + Feedback
Cool Mom Tech – Dads Dig This – BeSpeak iPhone App
New York Times – Apps to Fit Your Style (or Find It)
Wall Street Journal – Wanted: Guy shoppers for Fashion Sites
Gear Patrol – Style & The Man, By Alan Flusser
Rugby.com – Rugby Endorses: The BeSpeak iPhone App
The Trad – BeSpeak, Bespoke, BeStylish – A Night With Alan Flusser
Alex Grant – BeSpeak: Alan Flusser in the Palm of Your Hands
Made To Measure, NY – Meeting Alan Flusser, Part One: The Custom Shop
Made To Measure, NY – The iPhone App You Need Most
Image Granted – You Speak…I speak…BeSpeak
Be Better Guys – Dressing Dapper? There's an App for That
Luxist – Men's Sartorialist Alan Flusser Introduces BeSpeak App for your iPhone
Kempt – Going Digital
Ask Andy – Flusser's BeSpeak For iPhone
Style Forum – BeSpeak app for iPhone by Alan Flusser
The Unofficial Apple Weblog – TUAW's Daily App: BeSpeak
ABC Neckties Blog – Review: The BeSpeak App
Mister Crew – BeSpeak
What's On iPhone – BeSpeak Review